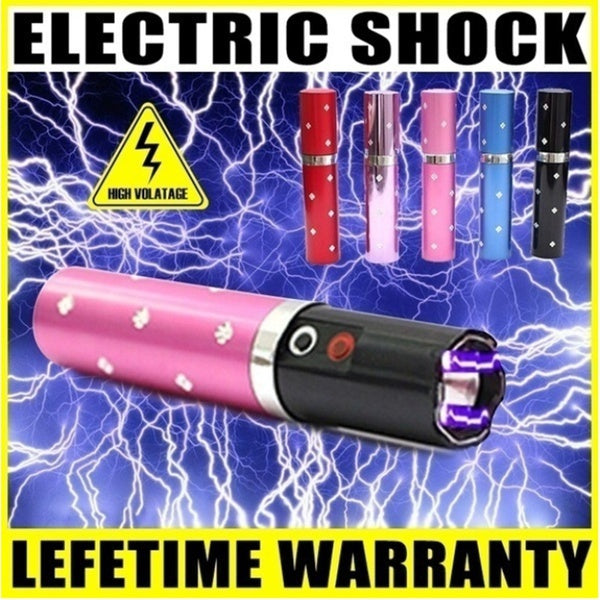 2022 Tactical Flashlight Stun Gun VS Taser Mini Stun Gun Lipstick LED Flashlight Self-defense Weapons Survival Camp | POPOTR™
Save

Liquid error (snippets/product-badge line 32): Computation results in '-Infinity'

%
SKU
电击口红1-1PCS-Black-7val
-Worldwide Free Shipping
-Same Day Shipping
10~20 days to America
15~25 days to Europe
25~35 days to Other Places

Why did my payment failed?
1、We just accept the following types of credit card
Visa、MasterCard、Discover、American Express、JCB.
-A valid credit card or a debit card that is co‑branded
-You can't use debit cards that are not co‑branded.
2、Your credit card needs to allow for recurring payments in USD.
3、Your credit card needs to have international capabilities.

Size: 2.3cm*2.3cm*11cm
Electric shock voltage: 60 Million Volts

Product features
1.The use of fully imported components, large capacity DC discharge, large output energy, good defense effect.
2.The new high capacity battery has more durable energy, longer endurance and 1000 times recharge.
3.High power LED bulb, life expectancy of 100 thousand hours.
4.Two-way charger with high-strength wire manufacturing, charging more convenient and fast.
5.The use of aviation grade aluminum material, military grade hard oxidation, cylinder diamond embossing, feel better.

Matters needing attention
1.Do not use functional switches at random when charging, so as not to damage the original device; charging time is 3-4 hours.
(Charging method: charging plug can be directly inserted into 220V power supply, charging indicator light on, must switch on and off to be able to charge or burn out the warranty.)
2.Do not use flashlight function in 5 minutes after completion of charging.
3.Drohibit electric shock to metal objects, so as not to damage the high voltage generator.
4.Strictly prohibit the use of children, heart patients and the main parts of the human body.
5.Waterproof: can adapt to a variety of life waterproof, do not soak in the water for a long time, can not enter the underwater operations.